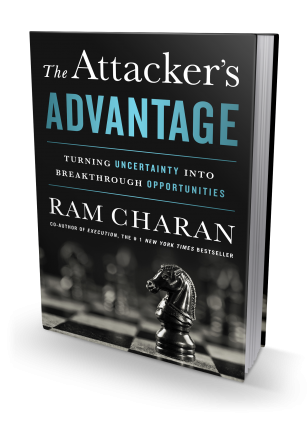 attack, enormous opportunities ahead
Those who scan faster and better, capture the prize
What People are saying about The Attacker's Advantage
"Coping with structural uncertainty and radical shifts in business models means executives need the insight to see around corners and the courage to move beyond boundaries. Ram Charan shows what it takes to go on the attack."
"It is not enough for a sitting CEO—or any leader—to efficiently execute a successful strategy. As Ram points out you must be sufficiently alert to recognize early unfolding market disruptions. You need to be skilled not only in recognizing market changes but also in effectively transitioning the organization to exploit emerging opportunities. A must read for those leading companies in a tumultuous business environment."
"We live in VUCA (Volatile, Uncertain, Complex and Ambiguous) business environment. Ram has framed the question that every leader faces on a daily basis. How can I make decisions and lead when things change so unpredictably and fast? By examining the sources of uncertainty, we can use this market scenario as a source of advantage. It means not only rethinking the business strategy, but also crafting a strategy to reskill the people to travel these new paths. Ram has drawn from his role as a coach to the boards and leaders of some of the largest corporations to navigate through these uncertain times. A great read for leaders."
"Prof. Ram Charan is one of the most astute business thinkers I have interacted with. In this book he synthesizes his vast experience in guiding and dealing with a diverse set of boards, CEOs and companies that are faced with one of the foremost business challenges of our times–dealing with structural uncertainty. CEOs are amazed at how several successful and iconic companies and brands have suffered drastically or have even been wiped out for not having been vigilant and able to anticipate and plan for the disruptive forces attacking them. Here, he has analysed a number of examples and has distilled the learning and created useful frameworks as only he can. As he demonstrates, not only is it possible for leaderships to manage disruptions but they could in fact find opportunities in them with specific views on how to carve a path for their companies through uncertainty."
"The Attacker's Advantage is a must read from one of the best business thinkers of our time. Ram Charan.takes you on a phenomenal journey across countries, organizations, teams and individuals to tell the story of how we need to change in order to thrive in these tumultuous times. Based on his work with hundreds of managers and leaders from across the world, Ram Charan—in a way only he can—distills the tools, mindsets and behaviors essential for professionals building organizations for tomorrow, The Attacker's Advantage will challenge your beliefs and take you out of your comfort zone with stories and examples of how change is impacting business and how the winners are transforming the threats from change into a competitive advantage for themselves."
Uncertainty has always been a challenge to business, but never before has it had the intensity and potential to change industries and destroy companies as it does today. Business leaders can be on the defensive, or they can be on offense, prepared to lead decisively. The ability to deal with uncertainty is perhaps the paramount skill leaders must have to be successful in this era. Without it they risk becoming personally obsolete and driving their companies off a cliff.
In The Attacker's Advantage, renowned business expert and bestselling author Ram Charan shows what skills are needed to be able to spot the disruption that is coming, and what actions are necessary to take advantage of these changes. While many leaders know how to cope with operational uncertainty—when, for example, revenue fluctuates—the same cannot be said for dealing with structural uncertainty that can alter the money-making patterns of a company, industry or entire economic sector. Charan demonstrates the huge upside offered by structural uncertainty and provides the concepts and tools—such as being able to spot the catalysts of disruption, building organizational preparedness, developing a financial understanding of the consequences—to take advantage of forces that are creating new customer needs, market segments and ways to make money.
Uncertainty is now ubiquitous. The sources of structural change are varied and fast moving, and their convergence unpredictable. Digitization, algorithms, and the integration of technologies through sophisticated software and high powered hardware have already changed industries virtually overnight, but much more is to come. With his unparalleled ability to cut through complexity and provide workable solutions, Ram Charan provides readers of The Attacker's Advantage with the ability to anticipate and deal with the biggest threats facing their business.