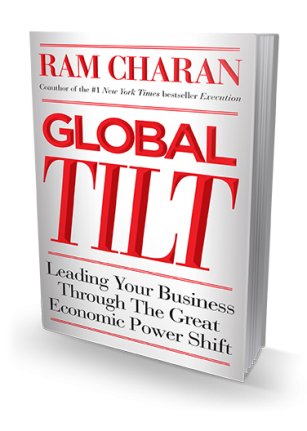 The tilt: the largest growth opportunities in emerging countries
Countries competing against countries
what people are saying about Global TIlt
"Global Tilt is more than just a crisp and insightful look at the North to South power-shift taking place in the world today. It's a brilliantly crafted managerial and strategy blueprint for leaders of businesses and organizations that are trying to make sense of this dynamic new landscape. This is Ram and his sharp strategic acumen at his very best. No CEO's library should be without it."
"A timely and insightful call to establishment leaders to rethink the world business equation. Charan encourages leaders of the North to strategize and operate with a different and more realistic mind set if they are to counter the thrust of an exuberant, ever more affluent and confident leader of the South. A must read for those seeking a more growth oriented future."
"Cuts to the core, right from page 1. The first chapter sets the agenda and you are immersed. In his inimitable way Prof. Ram Charan then proceeds to give us the solutions. An enormously educative must read for every business leader."
"Ram is a gifted visionary who is above all a pragmatist. He knows that the pathway from the possible to reality is not linear, but one of applied imagination and strategic leaps. In Global Tilt, Ram teaches us that unlearning is essential to new learning, with many examples that will both inspire and educate even the most seasoned business leader."
The greatest change in business history is happening now. Are you prepared to lead in it?

The tilt is nothing less than an irreversible shift of economic power from a small part of the world to its entirety. If you're an American or European, the assumptions about national and managerial superiority you grew up with are obsolete. Businesses in China, Singapore, India, Brazil, and elsewhere have just as much knowledge, talent, and drive as yours. They are challenging most of your long-held beliefs about what makes a business successful, and are already competing with you for customers across the globe—even if you are not aware of it yet.
The new game of international competition requires not weapons or raw power but the tools of adaptation: intellectual skill and psychological strength, including a new understanding of the global landscape, new strategies, major changes in work content—and above all, new horizons and mindsets. You can no longer look at the world from the vantage point of New York, London, Munich, or Tokyo. If you hope to do business in vastly different countries, you will have to learn about not only their markets but their cultures. You'll have to spend time there yourself, get to know their people, and place some of your best people there. You will have to get your organization to work differently.
Here, New York Times bestselling author Ram Charan gives business leaders the tools to succeed in a tilted world. Your challenge is not easy, but it's simple enough to grasp: If you can't adapt, you will fall by the wayside. If you are willing to learn and have the right personality traits, you have a bright future.
Global Tilt shows you how to adapt and succeed in what may prove to be the greatest change in business history.